In-Character Information
Character Name: Thorgils Travel-Hard
Character picture: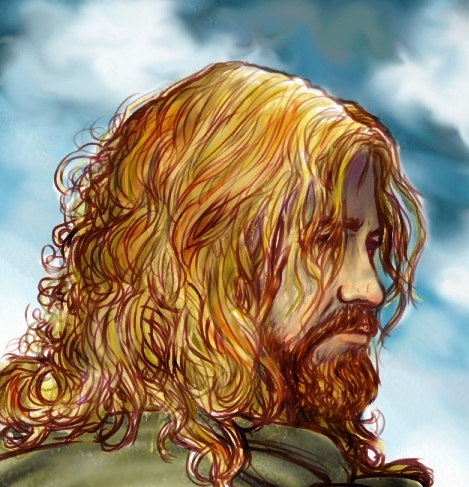 Age: 32
General Appearance: See picture
Biography:
Thorgils is from a planet in the Outer Rim known as Velhal, which is a moderately advanced planet ruled by a patchwork of independent clans all answering to a High Queen. The society of the planet is an institutionalized matriarchal one, where men (who outnumber the women by a ratio of 1 to 105) serve as warriors, laborers, and other day-to-day labor. The women lead and stick to scholarly pursuits.
On Velhal, all men have learned to fight from a young age due to the ongoing, violent nature of the clan warfare that is constantly raging across the planet. Every person on Velhal is a member of a particular clan, which they use to identify themselves. In Thorgil's case, Clan Travel-Hard.
Because of Velhal's violent nature, clans power tends to ebb and flow like the planet's violent oceans, that is to say, it changes frequently and quickly without much warning. Clan Travel-Hard, at the time of the Treaty of Coruscant, has fallen on hard times back on Velhal, which has led a majority of its members to seek fortune, weapons, and people to come aid the clan back at home. Thorgils was the first to leave his home on Velhal at the request of his father, and now seeks fortune, experience, and devastating weapons to carry back to his clanhold to bring his clan back to prominence.
Out-of-character information:
Real Name: Sam
Real Age: 24
Location: Iowa
General times of activity: Nights and weekends, or generally times that I have off.
Talents/strong points: Long history of MMO playing, good sense of humor, experience with RP
Weak points: Not much experience with Star Wars RP, new to TOR, sometimes may not be available because my internet sucks.